Vispero®
Vispero combines two Latin words: visio and spero. Visio means "the vision"; and spero, "hope." At Vispero we are driven in our mission of providing hope, determination, and independence through our complementary family of brands.
Vispero is the world's largest assistive technology provider for the visually impaired. Although officially formed in 2016, our brands Freedom Scientific, Enhanced Vision, Optelec, and TPG Interactive, share a long, rich history as industry leaders dating back to 1975.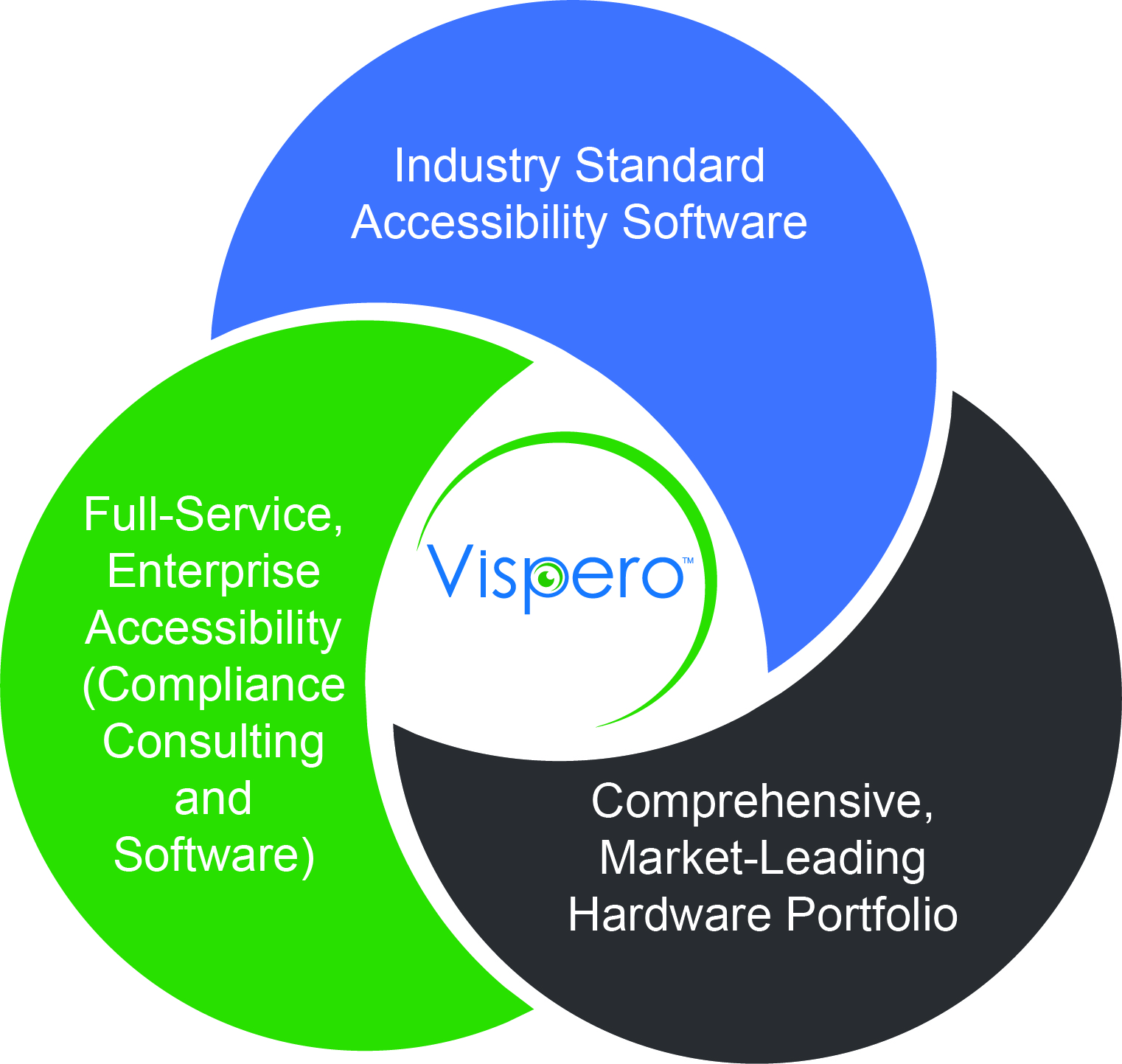 We develop and deliver innovative solutions that enable blind and low vision individuals to reach their full potential – to gain an education, obtain employment, succeed in professional careers, and live independently throughout their lives.
Vispero is proud to operate in 90 countries worldwide, with products localized in over 25 languages.
As the prevalence of age-related eye diseases like macular degeneration steadily rise, assistive technology plays an increasingly vital role, resulting in a growing demand for low vision devices and services. Vispero is uniquely positioned to address these challenges head-on by providing the tools necessary to meet the needs of the low vision population through our far-reaching distribution network.
Our family of brands deliver a superior line of optical and video magnifiers; wearables; scanning and reading devices; and easy-to-use software. Vispero's partnership with key organizations and advocacy groups keep us in the forefront of the low vision industry.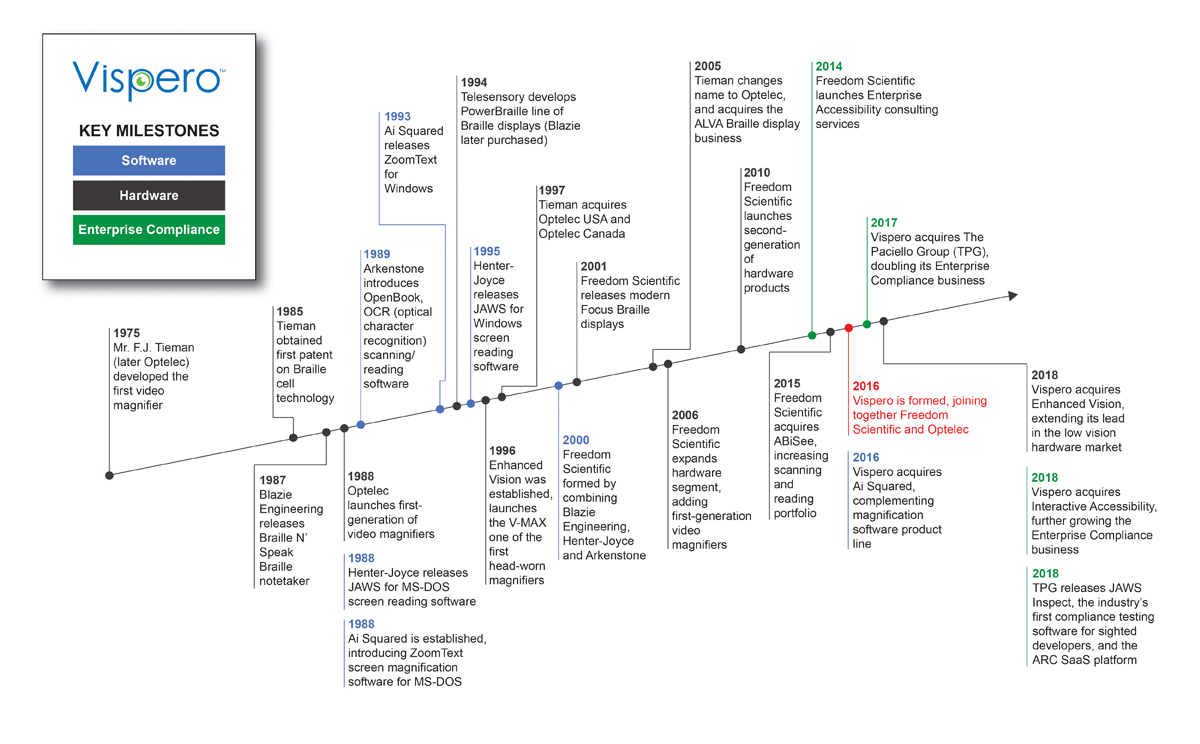 Vispero timeline of key milestones
1975
Mr. F.J. Tieman (later Optelec) developed the first video magnifier.
1985
Tieman obtained first patent on Braille cell technology.
1987
Blazie Engineering releases Braille N' Speak Braille notetaker1988 Optelec launches first-generation of video magnifiers.
1988
Henter-Joyce releases JAWS for MS-DOS screen reading software.
1988
Ai Squared is established, introducing ZoomText screen magnification software for MS-DOS.
1989
Arkenstone introduces OpenBook, OCR (optical character recognition) scanning/ reading software.
1993
Ai Squared releases ZoomText for Windows.
1994
Telesensory develops PowerBraille line of Braille displays (Blazie later purchased).
1995
Henter-Joyce releases JAWS for Windows screen reading software.
1996
Enhanced Vision was established, launches the V-MAX one of the first head-worn magnifiers.
1997
Tieman acquires Optelec USA and Optelec Canada.
2000
Freedom Scientific formed by combining Blazie Engineering, Henter-Joyce and Arkenstone.
2001
Freedom Scientific releases modern Focus Braille displays.
2005
Tieman changes name to Optelec, and acquires the ALVA Braille display business.
2006
Freedom Scientific expands hardware segment, adding first-generation video magnifiers.
2010
Freedom Scientific launches second-generation of hardware products.
2014
Freedom Scientific launches Enterprise Accessibility consulting services.
2015
Freedom Scientific acquires ABiSee, increasing scanning and reading portfolio.
2016
Vispero is formed, joining together Freedom Scientific and Optelec.
2016
Vispero acquires Ai Squared, complementing magnification software product line.
2017
Vispero acquires The Paciello Group (TPG), doubling its Enterprise Compliance business.
2018
Vispero acquires Enhanced Vision, extending its lead in the low vision hardware market.
2018
Vispero acquires Interactive Accessibility, further growing the Enterprise Compliance business.
2018
TPG releases JAWS Inspect, the industry's first compliance testing software for sighted developers, and the ARC SaaS platform.