Founded in 1996, Enhanced Vision is a leading developer of assistive technology for the visually impaired. With a strong management background in medical devices, we are dedicated to helping individuals maintain their independence. Enhanced Vision has developed a full line of superior, easy-to-use low vision assistive technology.

Hardware Solutions
We pride ourselves on listening to customers feedback and taking it into consideration during our development process, this helps us to provide the best tools possible for their needs. Today our extensive product portfolio, including the Pebble, Jordy, Merlin, DaVinci and Acrobat. Our hand-held, wearable and desktop video magnifiers are designed to help low vision individuals living with Macular Degeneration, Glaucoma, Cataracts, Retinitis Pigmentosa and Diabetic Retinopathy to read, write and fully participate in life.
Our assistive technology is offered by low vision professionals and can be found in specialized low vision agencies throughout the world. Enhanced Vision manufacturers, assembles and distributes its technology from a world class site in Huntington Beach, California.
We are dedicated to helping those living with low vision lead full and complete lives.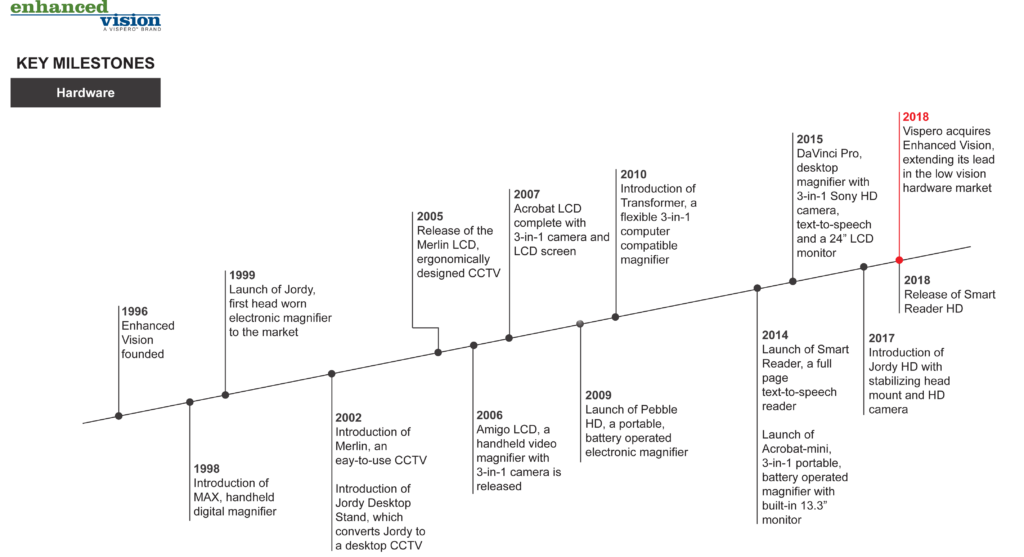 ---
ENHANCED VISION WEBSITE