Founded in 1996, Enhanced Vision is a leading developer of assistive technology for the visually impaired. With a strong management background in medical devices, we are dedicated to helping individuals maintain their independence. Enhanced Vision offers a full line of easy-to-use low vision devices designed for everyday use at home, work, school or on the go.

Hardware Solutions
Customer feedback is an important part of our product development process, it helps us provide the best tools possible based on actual need. Popular products such as Pebble, Jordy, Merlin, DaVinci, and Acrobat address these needs while offering ease of use and versatility. Our hand-held, wearable and desktop video magnifiers are designed to help low vision individuals living with Macular Degeneration, Glaucoma, Cataracts, Retinitis Pigmentosa and Diabetic Retinopathy to read, write and fully participate in life.
Enhanced Vision products are manufactured, assembled and distributed from a world class site in Huntington Beach, California. Our products are offered by low vision professionals and can be found in specialized low vision agencies throughout the world.
We are dedicated to helping those living with low vision lead full and complete lives.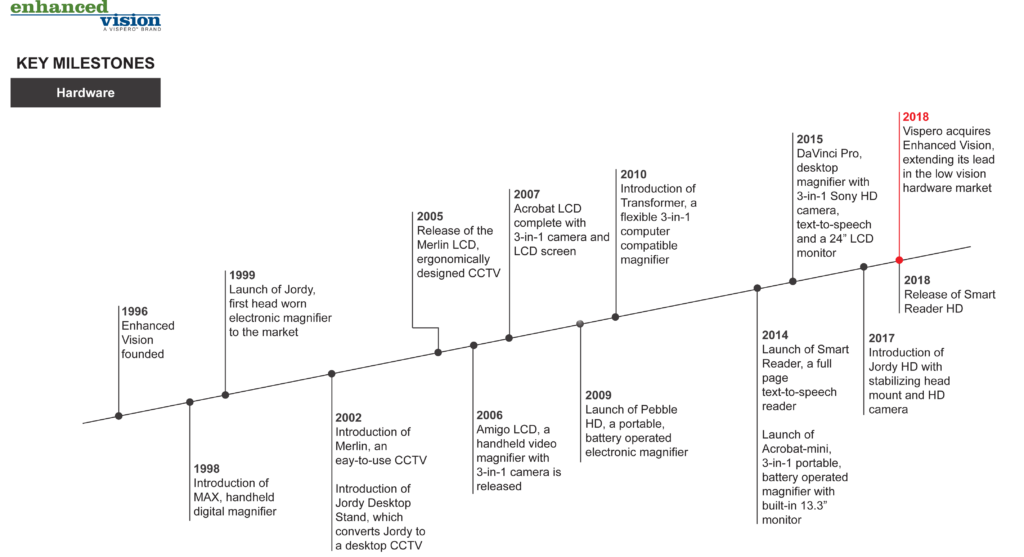 ---
ENHANCED VISION WEBSITE