Optelec's long history began in 1975 when the Tieman company, founded by FJ Tieman, developed the first video magnifier. A decade later Tieman obtained the first patent on refreshable Braille cell technology, establishing Tieman as the market's major Braille cell provider. Fast forward to 1997, Optelec USA and Optelec Canada were acquired by the Tieman company. It wasn't until 2005 that Tieman changed its name to Optelec. Our aim is to help anyone with a visual impairment, whether it is blindness, or any degree of low vision, with a wide range of products including hand-held and electronic video magnification hardware, speech enabled devices and daily living aids.

Hardware Solutions
Optelec carries a wide range of hand-held and desktop video magnifiers designed to help you stay in touch with those around you. Our products help you lead an independent life by enabling you to fully participate in school or work and allowing you to continue to enjoy hobbies. We offer solutions that scan and read text aloud for people who find that reading has become too difficult due to eye strain. With over 60 naturally sounding reading voices in 30 languages available to choose from, finding a solution has never been easier!
Daily Living Aids
Lighting and eye protection are quite individualized and play a key role for those with low vision. We carry a full line of LED lighting, including floor lamps, task lamps, and lamps suited for travel. Our absorptive lenses protect your eyes, both indoors and outdoors, providing glare control and protection from computer screens, artificial light, sunlight, and harmful UV rays.
Optelec for Professionals
Understanding the need to expand into the eye care professional (ECP) space, driven by market demand, Optelec For Professionals was established. This division focuses on the needs of the ECP and the patients they treat, with a comprehensive range of illuminated magnifiers, optical products, professional tools and daily living aids. Optelec for Professionals has become a trusted leader in supporting the visually impaired through our growing network of eye care professionals.
Optelec's mission is simple: Improving the quality of life for the visually impaired and blind by reaching out with simple and effective solutions.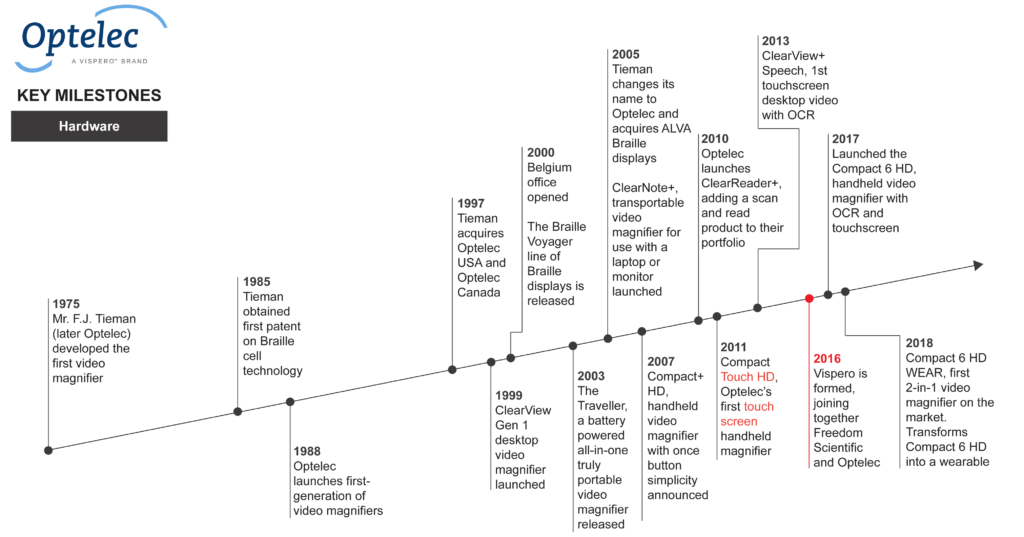 ---
OPTELEC WEBSITE